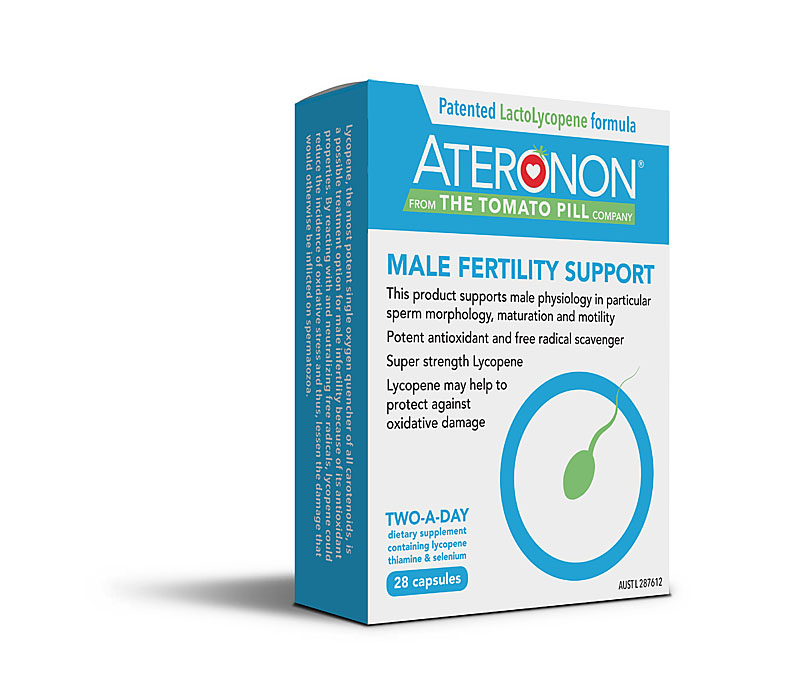 Ateronon Male Fertility is ideal for men looking to maintain a healthy production of Sperm and aid the Sperm's Motility.
Recently scientists have made a major step forward in boosting men's sperm quality, raising the possibility of a new way to counter the epidemic of infertility now affecting one in six couples.
Results from a controlled study using a dietary supplement called lactolycopene, showed an almost 50% increase in the number of fast swimming sperm and doubled the overall healthy sperm count.
"I wasn't expecting to see any benefit at all," said Professor Allan Pacey, a male fertility expert at Sheffield who led the study.
"When we decoded the results, I nearly fell off my chair."
A dietary compound found in tomatoes has been shown to improve sperm quality.
Men taking a dietary supplement of LactoLycopene had almost 50 per cent more fast. swimming sperm with improvements to sperm size and shape.
Excessive amounts of reactive oxygen species (ROS) cause a state of oxidative stress, which result in Sperm membrane lipid peroxidation, DNA damage and apoptosis, leading to decreased Sperm viability and motility.
New discovery could transform outlook for men with fertility problems.
Sperm quality can be improved with a simple diet supplement containing a compound found in cooked tomatoes, according to new research by the University of Sheffield.
The discovery could transform the outlook for men with fertility problems and lead to better ways to reduce the damaging impact of modern living on reproductive health.
Of all infertility cases, approximately 40 to 50 per cent are due to "male factor" infertility.
Allan is Professor of Andrology at the University of Sheffield Medical School. His interests include understanding aspects of male fertility, with particular emphasis on sperm biology. He is a former Secretary (2005-2010) and Chairman (2012-2015) of the British Fertility Society as well as the current Editor in Chief of the BFS journal Human Fertility.
Lycopene, the most potent singlet oxygen quencher of all carotenoids, is a possible treatment option for male infertility because of its antioxidant properties. By reacting with and neutralizing free radicals, Lycopene could reduce the incidence of oxidative stress and thus, lessen the damage that would otherwise be inflicted on Spermatozoa.
CLICK: More research about the effects of lactolycopene on male fertility
What makes Ateronon Male Fertility unique?
Our easy-to-absorb formula
Because of it's molecular structure, Lycopene is extremely hard to absorb. But as Ateronon Male Fertility is formulated with a unique, natural, LactoLycopene formula, which combines Lycopene with whey protein.
Manufactured to pharmaceutical standards
Ateronon Male Fertility is manufactured to pharmaceutical grade and has a shelf life of four years. Post production, we carry out continual testing every 12 months to ensure the products efficacy. Very few dietary supplement products are tested so vigorously. Laboratory testing has shown that there is no deterioration of Lycopene levels in the product for a minimum of four years after manufacture.
Dedicated to clinical research and testing
The extent and breadth of CamNutra's clinical trial work into Lycopene and its benefits is unique and unparalleled. Ateronon Male Fertility has also undergone a series of in-house and independent clinical studies. No other Lycopene product has been so rigorously tested.
---
How often should I take Ateronon Male Fertility?
Two capsules once a day
It is easy to incorporate Ateronon Male Fertility into your lifestyle. Simply take two capsules a day and your body absorbs the Lycopene goodness of over 1kg of cooked tomatoes.
If taken daily you will reach the optimum Lycopene levels in the blood in as little as two months. To maintain this level, which is essential to continue Lycopene's health benefits, take it daily as part of your regular health care regime.
---
What else do I need to know?
Does Ateronon have any side effects?
Ateronon Male Fertility is a 100% natural food supplement, with no reported side effects. However, if you have tomato, soybean or whey protein intolerance, do seek medical advice first.
---
Always read the label. Use only as directed.
Directions: Take two capsules per day.
See bottom of carton for best before end date. Store below 30ºC
Each Capsule contains Lycopene 7.0mg, Folic acid 200mcg, Thiamine as Thiamine nitrate 1.5mg, Cyanocobalamin 2.57mcg, Pyridoxine hydrochloride 1.72mg, Selenium as sodium selenite 55mcg.
WARNING – This product contains selenium which is toxic in high doses. A daily dose of 150 micrograms for adults of selenium from dietary supplements should not be exceeded. This product contains pyridoxine hydrochloride which may be dangerous when used in large amounts or for a long time. Vitamin supplements should not replace a balanced diet.